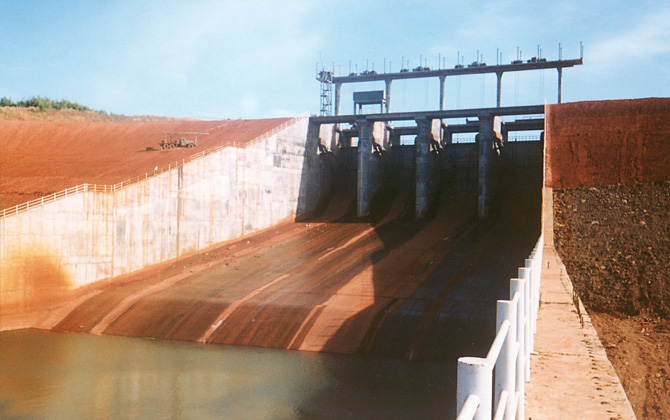 In Vietnam SFTC Ukrinterenergo has successfully carried out construction works of Thac Mo HPP with the installed capacity of 150 MW (2?75 MW) on the Beh river.
The contract for HPP construction (1991-1996) comprised the plant design, field supervision of HPP construction, basic and auxiliary equipment supply, contract supervision and commissioning of equipment. Total cost of performed works amounted to about USD 37.5 million.
High quality equipment from more than 100 companies from Ukraine and CIS countries has been supplied for the construction of Thac Mo HPP, including hydromechanical equipment manufactured by JSC Ukrhydromekh, hydro turbine – by JSC Turboatom, crane equipment manufactured by JSC Novokramatorsk Machine-Building Plant and CJSC Zaporizhia Plant of Heavy Cranes, transformers – by JSC Zaporizhtransformator, hydrogenerators – by JSC Uralelectrovazhmash.
The design of HPP was performed by OJSC Ukrhydroproekt, hydromechanical equipment was designed by OJSC SPKTB Zaporizhhydrostal.
The first Ukrainian power project in Vietnam – Thac Mo HPP (Thac Mo is translated from Vietnamese as "Waterfall of Dreams") was realized within the period stipulated by the contract.
It is worthy of note that in accordance with the results of its operation Thac Mo HPP was recognized by the Vietnamese power engineers as the most efficient HPP in Vietnam.