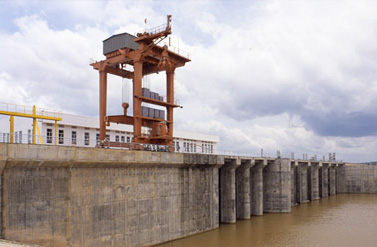 In August 2004, SFTC Ukrinterenergo jointly with its partners has executed works under the contract with
COMA Corporation for design of hydromechanical (crane and hydraulic) equipment, manufacture and supply of crane equipment for Srok Phu Mieng HPP with the installed capacity of 51 MW (2?25,5 MW). Furthermore, field supervision of hydromechanical equipment installation and contract supervision of crane equipment installation were executed. In December 2005, all the works including installation and testing of equipment at the power plant were successfully completed.
The design of hydromechanical equipment was fulfilled by OJSC SPKTB Zaporizhhydrostal, crane equipment was manufactured by OJSC Zuivskiy Electromechanical Plant.