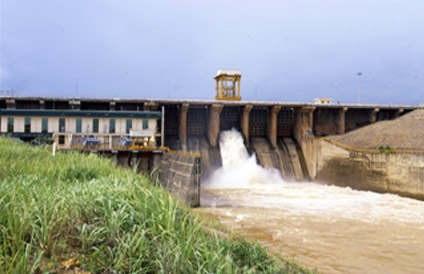 Between 1998 and 2004, SFTC Ukrinterenergo along with its partners in particular with participation of
OJSC Ukrhydroproject fulfilled works for engineering design of the main structures of Can Don HPP (2 x 36 MW), technical and field supervision of the powerhouse generating set area civil works, rendering of the principal project engineer's services.
In 2000, Ukrinterenergo signed with COMA Corporation (SRV) the contract for hydromechanical equipment delivery to
Can Don HPP according to which cranes manufactured by CJSC Zaporizhia Plant of Heavy Cranes and hydrotechnical equipment manufactured by OJSC Ukrhydromekh (gates and spare parts to them) were delivered to Vietnam.
In 2001, one more contract was signed with COMA Corporation for field supervision of erection and testing of the equipment supplied. In August 2003, all the works were successfully completed and Can Don HPP was commissioned.