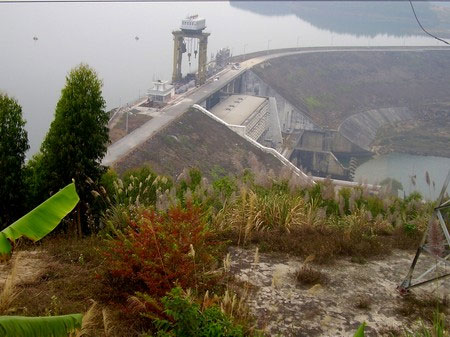 Thac Ba HPP installed capacity 108 MW (3?36 MW) was built in Vietnam on the Chai River in 1976 with the technical assistance of the former USSR, and one of the first in the country provided supply of northern regions with electric power.
In 2001, Ukrinterenergo on invitation of the management of the Electricity of Vietnam and directorate of Thac Ba HPP, fulfilled technical inspection of hydro power plant and offered versions of renewal performance and modernization of HPP main equipment of the installed capacity expansion up to 120 MW.
After definition of works' scopes by the Customer in 2002-2007, the company performed work package of renewal and modernization of hydrounits No. 1 and 2 (overhaul of turbines, generators and auxiliary equipment, including replacement of speed governors of turbines revolutions and excitation systems of generators). As the result: capacity of hydrounits No. 1 and 2 increased to 40 MW each, total lifetime of turbines prolonged to 30 years, generators – to 40 years.
Main partners of Ukrinterenergo in this project, together with Vietnamese companies, were Ukrainian enterprises:
OJSC Turboatom, OJSC Dnipro-Spetshydroenergomontazh, Ukr-Spetshydroenergomontazh, Start-and-adjustment service enterprise Hydroelectromontazh, as well as companies of Russia and Austria.